Our Repair Shop
Supported by his team, our master guitar builder Veit Lätsch is in charge of setting up all stringed instruments. For us setting up means everything - all the finishing touches that add to playability such as dressing frets, filing saddle nuts, adjusting string height, adjusting neck relief, and more.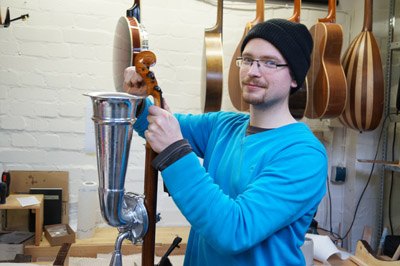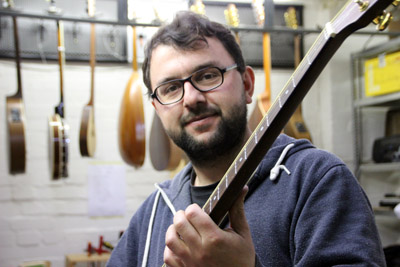 Repair of bowed and plucked instruments
In addition to these preparations for new instruments, we also offer a repair service for bowed and plucked instruments. Whether it's improving painted areas, gluing face cracks, replacing missing inlay - anything is possible. We can also restore or rebuild old instruments. Whether you would like a pickup installed, a right-handed instrument turned into a left-handed one, a broken neck repaired, or simply want the string height adjusted - we're happy to take care it.
How's that work? It's best to call us first - our phone number is 040-69 79 75 48. During that call we can provide an initial estimate. For a more accurate estimate, we'll need to have the instrument inspected in the shop. You can either send it to us or drop it off personally.
We make you an offer at a fixed price! You can then decide if you want to authorize the work or not. Once the repair is complete, we send your instrument back to you or notify you that it is ready to be picked it up.
______________________________________________________________________________________________________________
Adjusting Instruments
Regardless of the price class, you can almost always improve the playability and sound of an instrument with a little effort. Aching fingers become a thing of the past. And you can play much faster on an instrument that's properly adjusted - so there's no need to accept things like rattling strings.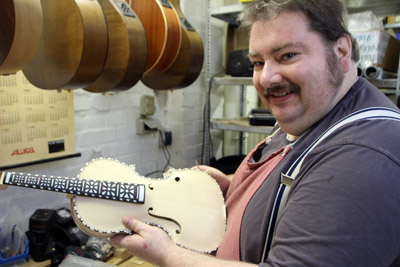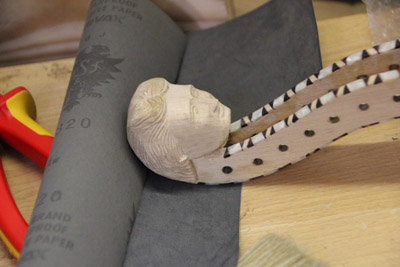 In this video, we have documented the incorporation of two new pickups in the balalaika bass of Katzenjammer. Ten days before the European tour, the band gave us call wondering if we could quickly replace some built-in technology. Harald, the sound engineer of the band had refused to continue to mix down the bass to adjust for the fact that someone had installed an electric guitar pickup which, additionally, was attached to the face of the bass, and thus the lowest string was extremely loud, while the others were extremely quiet. We built two separate, independently mixable pickups into the bass: an electromagnetic humbucker for rock songs and a piezo electric pickup for acoustic pieces. Now Harald mixes the bass using two channels. Especially at the big festivals, with some 10,000 people, it can produce without feedback a natural sound by utilizing the humbucker for the loudness and the piezo electric pickup to mix some highs into the timbre.